content
With tactical urbanism, the government is planning far-reaching changes against the city's massive air pollution.
Why is it? In the Spanish metropolis of Barcelona, ​​very high levels of particulate matter are repeatedly measured. The cityscape will be redesigned through initiatives. Since March 2020, about eight hectares in the city have been freed from car traffic and turned into sidewalks, playgrounds, bike paths and restaurant terraces. The authorities claim that people need more space to avoid contracting Covid-19.
What is Barcelona suffering from? Poor air quality has been a problem for years, especially when it comes to particulate and nitrogen dioxide pollution. In some cases, this is so high that a "reddish bell" hangs over the city, says freelance journalist Julia Macher. For example, 350,000 cars drive through the new city of Eixample every day.
what are the plans By 2030, large parts of the Eixample will be calmed down and traffic diverted using so-called superblocks. Several streets will be closed to traffic. Sidewalks will be widened and parking spaces will be reduced. During the pandemic, the city government created facts in many places with tactical urbanism, Macher said. The sidewalks were widened by cutting off a section of the road and painting the sidewalks yellow. Parking lots have been turned into terraces for cafes.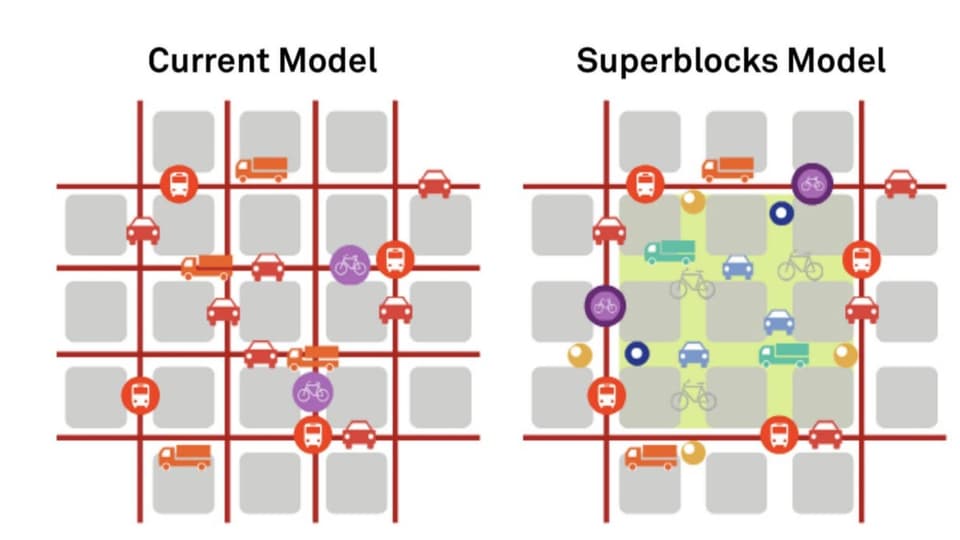 How does the Government justify the changes? "Everything is in the political program," says the journalist. The leftist alternative government has been at the head of Barcelona since 2015. In those elections, the coalition announced that it wanted to return Barcelona to its citizens and transform it into a greener city more suitable for pedestrians. The first super blocks were already built during the first legislative period. Four of these green axes, also known as "superiles", are due to be completed by 2023.
Has the government neglected the health of the population so far? The health aspect has become more important. Journalist Macher cites two reasons: awareness of health policy issues, which has increased during the pandemic, and scientific evidence. "A recent study from Barcelona shows a link between bad air and poorer cognitive performance in school children." And a recently published study shows that Barcelona could avoid 600 deaths a year if pollution levels were as low as they are in 2020.
What do the population say? According to Macher, reactions are divided. Taxi drivers fear that they can no longer drive properly. Some stores and trade associations expect losses. The reduction in the number of parking spaces could be a problem for passengers. However, this concept appeals to many residents of the city. "They dream of a 15-minute city where you can walk to everything important in 15 minutes."
Are the fears justified? According to journalist Macher, time will show how justified the fears of critics of the plans are. "Changes always open other entrepreneurial opportunities. But it takes a long time." The pandemic has also shown that it takes a long time. Barcelona, ​​for example, is still suffering greatly from the decline in tourism.